South Lapland Airport is part of the "Green Airport" project along with Sweden's other regional airports. Within this project, the aim is for all airports to become more energy efficient, have a higher level of automation and be more environmentally in a financially sustainable way.
Aviation is, and will always be, vital for a large sparsely populated country like Sweden. So the means of achieving a green aviation industry is by readjustment, not through cancellation. In today's modern global society, it is of vital importance to offer our citizens air travel that does not have any long-term impacts on the environment.
Do you wish to learn more about the Green Airport project? Click HERE.
How does South Lapland Airport play its part?
In 2018 we documented our local Co2 emissions and energy consumption throughout the whole year in accordance to ACERT (Airport Carbon Emissions Report) guidelines. Based on the result, we set the following goals for the years 2019–2021:
– reduction of energy use at the airport
– reduction of our consumption of carbon dioxide emissions by 20%
– reduction of the amount of unsorted waste by 5%
As a consequence of the global pandemic, our reduced activity meant that we far exceeded the above mentioned goals. Transition from diesel to HVO100 (Biodiesel) led to a 79% reduction in Co2 emissions from our own vehicle fleet. Despite the increase in air traffic since, we still aim to maintain the same levels as in 2021.
Our goal is to become Co2 neutral by the year 2030, and if we continue to reduce our emissions at the same rate as we have done so far, we hope to achieve this goal earlier than 2030!
Climate mitigation
Do you wish to contribute to a more environmentally friendly aviation industry and reduce carbon dioxide emissions when flying? When you fly to or from South Lapland Airport, you can contribute via the Fly Green Fund.
Fly Green Fund is a non-profit financial association, which provides companies and individuals the opportunity to reduce their climate footprint when traveling by air. The aim is to jointly kick-start the market for bio-jet fuel in the Nordic countries. The fund has both business customers who pay via annual contracts and private customers who pay with the Swedish bank app Swish.
75% of the customer payments is spent on purchases of biofuel and 25% is allocated to the support of continuous and large-scale biofuel production in Sweden.
At flygreenfund.se, you can choose the level of climate mitigation for your flight. This has a direct effect on the speed of transition from fossil fuel to biofuel. All you need to do is to state your places of departure and arrival to find out how much carbon dioxide your trip emits, and then you can choose how much you wish to reduce carbon dioxide emissions from your share of the trip. Remember, it's always better to reduce a little than nothing at all!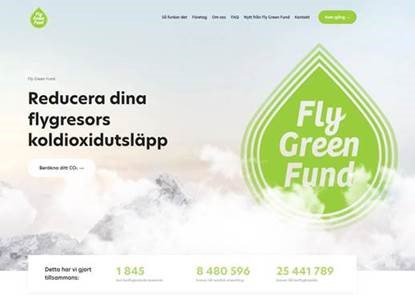 Do you want to learn more? Click HERE